We're breaking down how probiotics work – and the difference that activation technology makes.
Probiotics are live microorganisms that support our active gut flora for healthier digestion and overall well-being.
Do Probiotics Even Work? It All Comes Down To Activation
The world of probiotics can be complex. That's why we're breaking down the history of probiotics, their varied forms, and exactly what they entail.
Probiotics have been around for thousands of years in the form of fermented foods. In order to preserve milk, fruits, and vegetables, bacteria such as Lactobacillus would ferment sugars into acids, turning milk into yogurt or kefir, cabbage into sauerkraut and kimchi, and creating fizzy drinks like kombucha. 
At grocery stores, you'll often see these fermented foods claim to "contain live active cultures," but most of those living bacteria are not able to survive the harsh pH of our stomach acid. Less than 0.1% of the bacteria survive, which makes it difficult to get consistent or even noticeable results.
Now that probiotics have gained mainstream popularity, there are an endless array of different pills, powders, gummies, and other supplements to deliver these beneficial gut bacteria into our bodies. 
Here's the problem: There are many different bacteria species found in these products; some are like the bacteria found in yogurt and other fermented foods, and others are a type of bacteria called Bacillus. Bacillus bacteria have become very popular because they exist in a totally natural dormant state known as an endospore, or spore. However, in this state of dormancy, they are so stable that almost none of them are able to wake up and get to work inside the gut.
The live, active cultures, such as Lactobacillus and Bifidobacterium, don't survive for long unrefrigerated, and must be freeze-dried before adding them to a supplement. Freeze-drying is a harsh, unnatural process that damages the integrity of the bacteria, making it difficult for them to recover once they're inside our digestive system— if they make it there alive at all. 
With Flora Code, the stability of Bacillus plays a vital role in a patented nutrient blend. The technology ensures that the spores activate and fully wake up inside the gut, exactly where we need them. The precise, high-quality Bacillus spores have been selected and cultivated to offer all the direct benefits of thousands of years of probiotics.
Our gut is arguably the most important system in our body – every aspect of our well-being hinges on its function and health.
Activation Explained
This process is what makes Flora Code stand out from other probiotic supplements.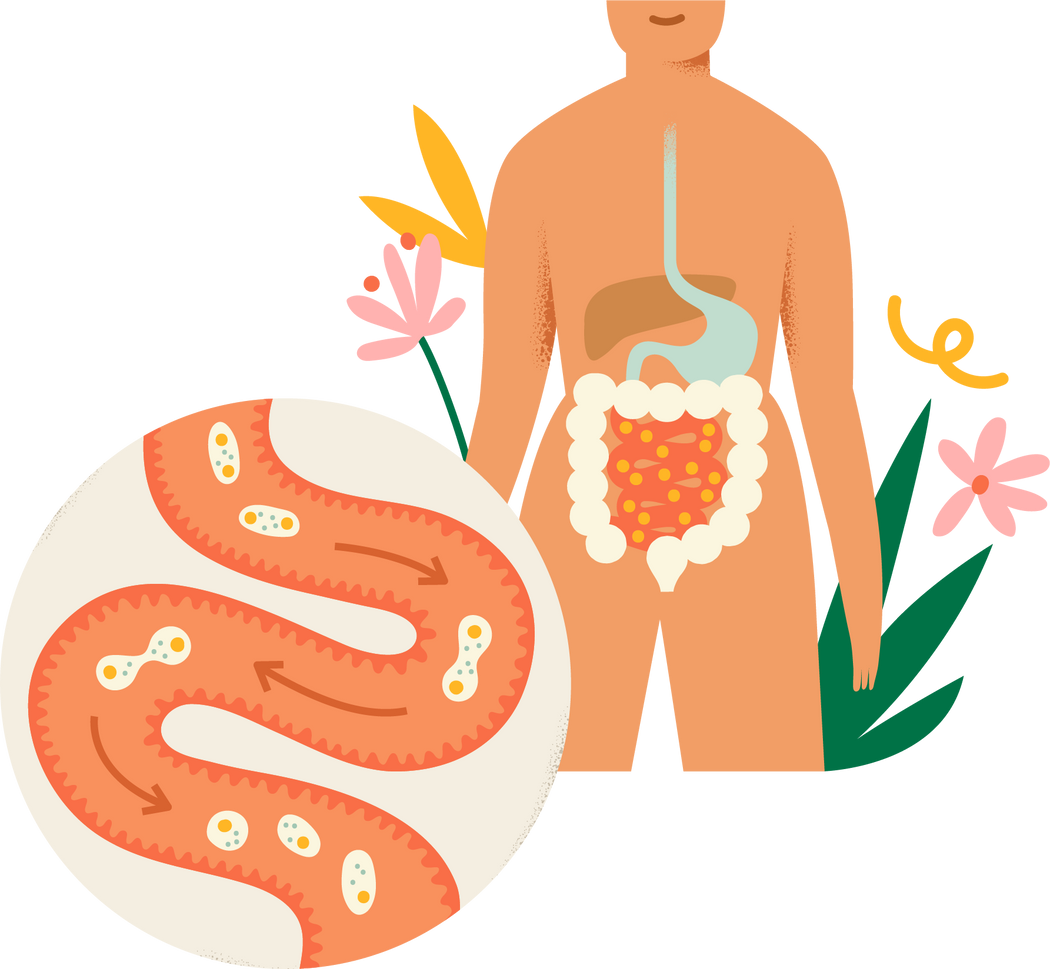 THE SMALL INTESTINE MAKES UP 75% OF WHAT WE DEEM "THE GUT" WHICH IS WHERE OUR BACTERIA GETS TO WORK
OUR PROBIOTIC BACTERIA IS 20X MORE EFFECTIVE THAN COMPETITORS
AFTER USE, 95% OF OUR BACTERIA ARE PROVEN TO BE ACTIVE AND FLOURISHING IN THE GUT
Flora Code helps you manifest real, tangible results. Our probiotic comes alive inside the body when and where you need it, promising glowing benefits from the inside out that will change how you perceive wellness.